I am a first generation American, I was born in Queens, New York and raised in Long Beach, California. My father was born in Faial which is located in the Azores Islands (Portugal). My mother was born near Santa Fé de Bogotá, Colombia (South America). They met in New York got married. I grew up with mom, dad, little brother, Avolita (Portuguese Avô + Spanish Abuelita), Madrinha, Padrinho, Titia Virginia, Tio Antonio (in actually the last four were my – tios avós).
I have always known I wanted to be a teacher since elementary school. I even wrote it in my 6th grade yearbook. I graduated from Long Beach Wilson High - the Freedom Writer's school in 1987. Most of my family still lives Long Beach with his wife and have a cute little boy named Joey.
I attended the University of California Santa Barbara where I got my BA in Spanish 1992. I received a teaching credential from California Lutheran University. I returned to UCSB to get a Master of Arts in Spanish in 1999.

I have two adorable bunnies named Pan and Dale (my little Roy bunny who is in most of the pictures passed away in June 2007). I love to cook, crochet and tat which is how I used to pass the time with my Avolita Maria Amelia and my Madrinha Florinda.



Where I went to school:
Woodrow Wilson High - Long Beach, CA
University of California - Santa Barbara
California Lutheran University
Sra. Rosemary Soares at work.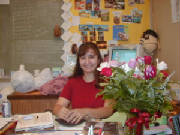 Links you might find interesting if you want to know a little about my culture, family, etc...



Location:
Dos Pueblos Senior High
7266 Alameda Avenue
Goleta, California 93117
School Website:
805-968-2541
E-mail: